Archive
Stressful days ahead for those on the bubble in Guadalajara
GUADALAJARA, Mexico—Entering this week's Jalisco Open Guadalajara, Linus Lilliedahl is among the players who have zero worries about playing in next week's season-ending Bupa Tour Championship in Tulum, Mexico. The 29-year-old from Sandviken, Sweden, enters the last full-field event of the PGA TOUR Latinoamérica season ranked seventh in the Totalplay Cup points list. His sights are set on giving himself a chance to charge back inside the top five or even make it all the way to No. 1, a position currently held by Canada's Myles Creighton.
Lilliedahl opened the season with back-to-back runner-up finishes and is coming off a solo-fourth finish three weeks ago in Colombia. Things didn't go that smoothly for him in his previous two seasons as a PGA TOUR Latinoamérica player. He finished 60th in the season-long race in 2020-21 and then again in 2021-22.
Only the players inside the Totalplay Cup top 60 at the conclusion of the Jalisco Open Guadalajara will get access to next week's season-ending event.
As several players enter the week with their jobs on the line, Lilliedahl knows the feeling better than most.
"You are playing for your life, right? The knife is on your throat, you have to perform and every single shot counts," he said, recalling his struggles to keep his Tour card.
In the COVID-19 abbreviated 2020-21 season, which ended with a full-field event given the shortened eight-event schedule, he secured the 60th spot, finishing only 16 points ahead of No. 61 Santiago Gómez of Colombia.
Last year he had to suffer and stress again, reaching the last full-field event of the year ranked 58th and then dropping two spots to make the Bupa Tour Championship as the 60th and last man in.
"I think (that experience) is going to help me coming down the stretch (this next two weeks). Having battled that twice, finishing 60th in the points list to just barely retain my card, I think it can only play in my favor, having gone through that adversity and succeeding. Hopefully, we can keep succeeding," said the University of Missouri alum, who turned pro in 2018.
Seeing Lilliedahl's progress after his struggles should provide encouragement to those battling to make the critical top 60, which this time around guarantees players access to the 2024 PGA TOUR Americas inaugural season.
Asked what his advice would be for those playing for their jobs next season, he said: "When it comes down to finishing 55th or 65th it's a matter of one stroke, one single point, one single dollar throughout the year. Coming down the stretch maybe you are playing good, or maybe you are playing bad, so just keep doing your best because every single shot counts."
Currently, Thomas Lilly of Newton, North Carolina, is holding down the 60th Totalplay Cup position, while Argentina's Santiago Bauni, only two points behind Lilly, is the odd man out were the season to end today.
Totalplay Cup Standings Bubble Watch
| | | |
| --- | --- | --- |
| Pos. | Player | Points |
| 56 | Danny Ochoa (U.S.) | 171 |
| 57 | Peyton Wilhoit (U.S.) | 169 |
| 58 | Brendon Doyle (U.S.) | 169 |
| 59 | Samuel Anderson (U.S.) | 167 |
| 60 | Thomas Lilly (U.S.) | 165 |
| 61 | Santiago Bauni (Argentina) | 163 |
| 62 | Joel Thelen (U.S.)* | 155 |
| 63 | Skyler Finnell (U.S.) | 151 |
| 64 | Alex Scott (U.S.) | 143 |
| 65 | Matías Simaski (Argentina) | 143 |
* Korn Ferry Tour player (not competing this week)
The following is a look at the different performance rewards available for the players who finish the season inside the Totalplay Cup top 60: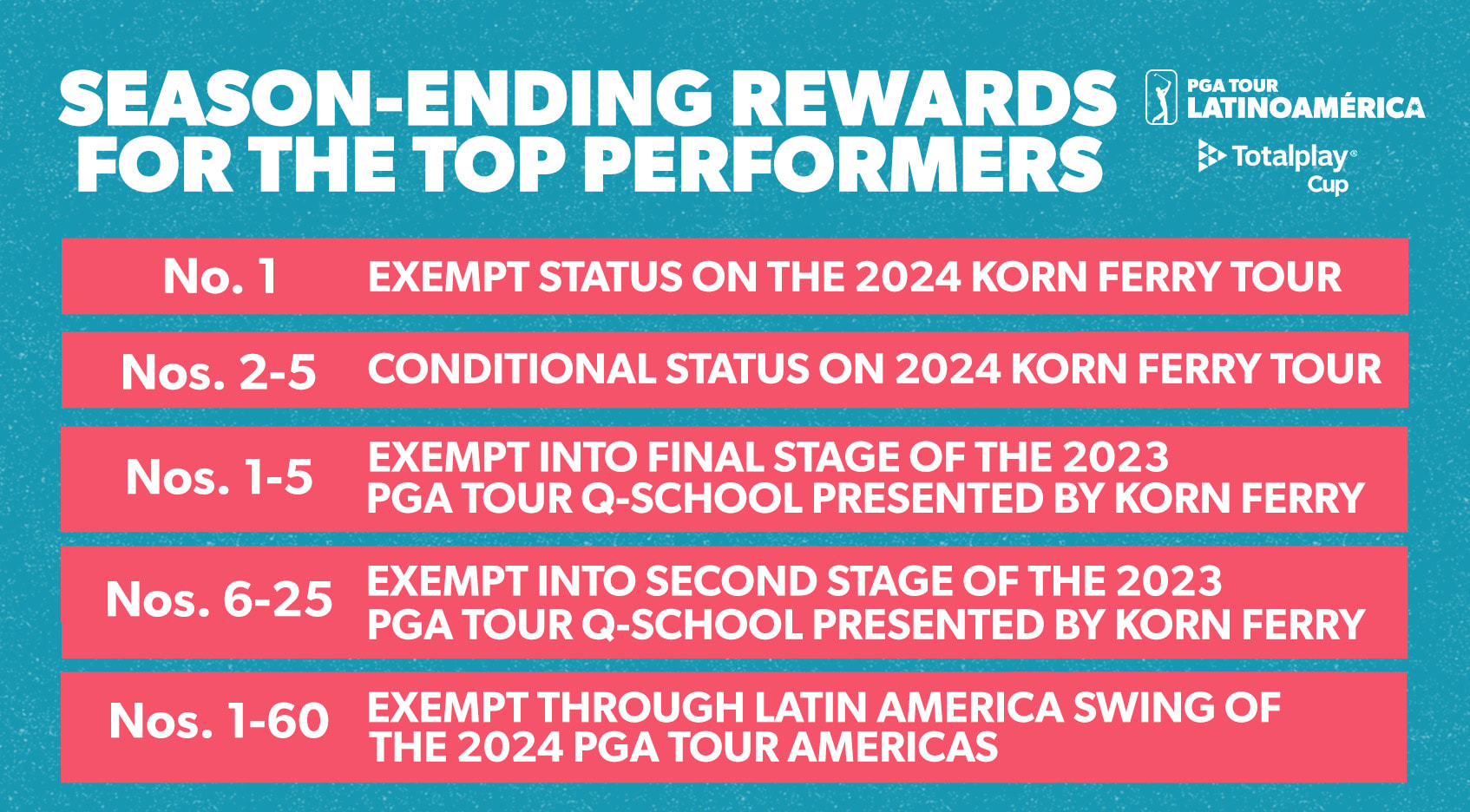 Official Name: Jalisco Open Guadalajara
Hashtag: #JaliscoOpenGDL
Dates: June 22-25, 2023
Host venue: Atlas Country Club, Par-71 (35-36) 7,169 yards
Field: 144 players from 21 countries (including 39 Mexican players)
Purse: U.S. $175,000 – Winner's share U.S. $31,500
Totalplay Cup points: Awarded to the top-55 and ties, with500 going to the winner
Cut: Top 55 and ties