Archive
Montenegro secures huge come-from-behind win in Peru
LIMA, Peru—After barely making the cut two days ago, Argentinian Marcos Montenegro made an incredible comeback, shooting a final round 8-under 64 to secure his first PGA TOUR Latinoamérica title at the Diners Club Peru Open on Sunday. Montenegro finished 15-under for the event, beating his next closest competitor, the USA's Conner Godsey, by two strokes.
Making the cut right on the number Friday, with a birdie on No. 18 to secure his final 36 holes, Montenegro entered the weekend tied for 48th at 1-under. He then shot a 6-under 66 on Saturday to put himself six strokes behind the leader and tied for 10th with nine others heading into the final round.
"This is a tough course," Montenegro said. "The first two days I didn't strike the ball that well, and it punished me a little bit. But, on Friday, I took a look at the leaderboard and saw that I was far from the leader, but I wasn't that far from the top 10, so I focused on having a great weekend and it worked out."
On Sunday, the 25-year-old from Loberia, Argentina could do little wrong, carding 11 birdies en route to his 8-under 64, tying the low round of the week. He made the most out of his Cinderella-story with a swim in the hazard off No. 18, (watch here) after fellow players pushed him in at the conclusion of the event. That same hazard, ironically, had a hand in securing his win after third-round leader and fellow Argentine, Tommy Cocha, hit his approach shot in the water, confirming his compatriot's victory in front of an impressive 18th-hole gallery.
"It's a dream. It's really something I dreamed about, so I have to enjoy it. Today, I started really well. The three birdies in a row I made on seven, eight and nine were big. I knew I would have chances. It was windy, so I tried to remain calm all the time. I asked Jorge, my caddie, to keep me calm, shot-by-shot, and we did it pretty well. On 17, I made a great par putt from the collar. I didn't know where I stood at the time, but because of my caddie's reaction I knew that we were in good position," Montenegro said.
"Then, on 18, I hit a great tee shot in the fairway," Montenegro added. "With a tough pin ahead, Jorge asked me to play more to the right, not too aggressive because there's water close. I didn't take too many risks and left myself a 30-foot putt. It stayed in line the whole time, and at the end, the putt almost did not drop. I knew I had a big celebration that came from deep inside, but I don't even know what I did."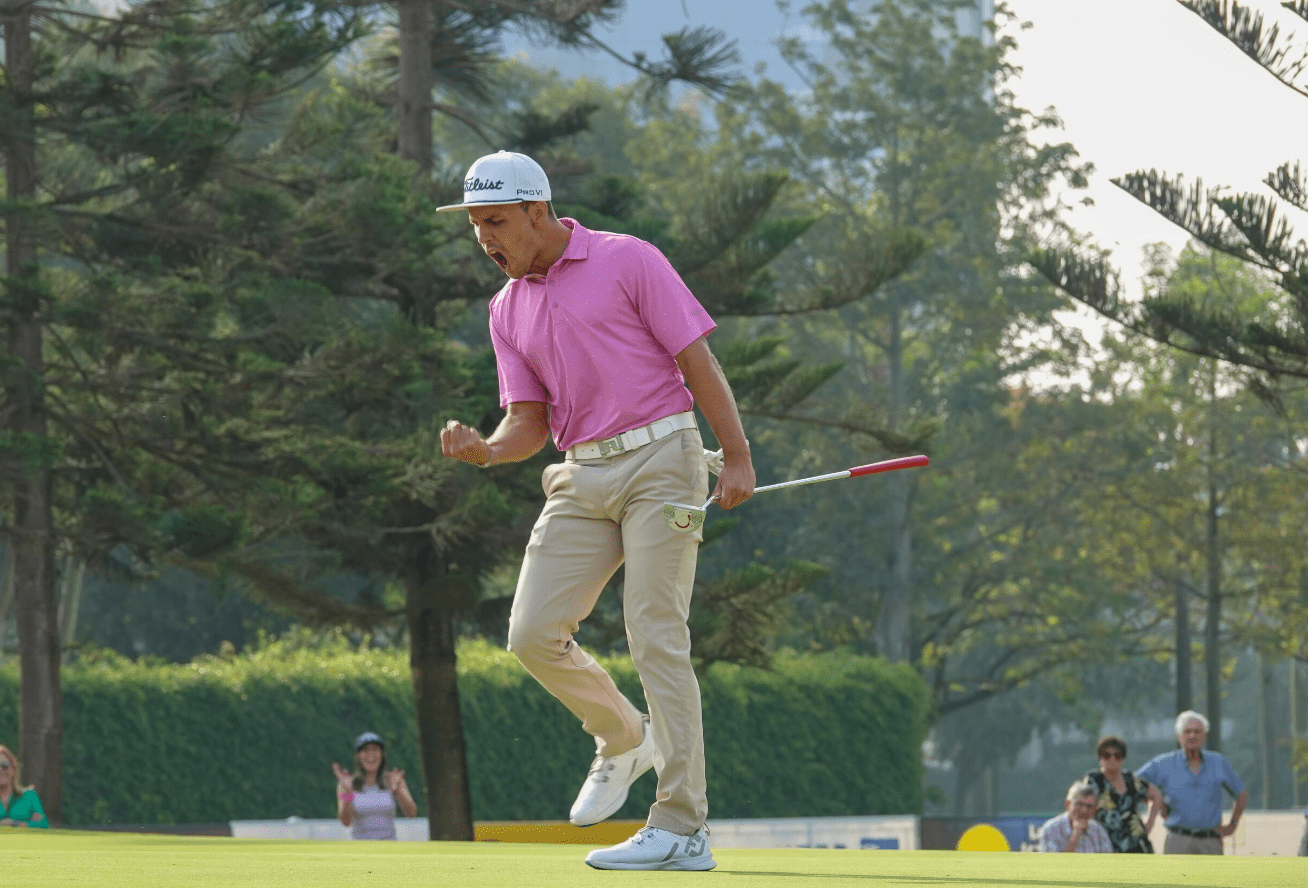 With this victory, Montenegro jumped 44 positions in the Totalplay Cup standings, to seventh after seven events on the Tour's 12-stop schedule. Godsey, who recorded his second runner-up finish this season and his fourth top-10, took consolation in his close call by moving into the top spot of the Totalplay Cup standings. He supplanted Cristóbal Del Solar, who last played on PGA TOUR Latinoamérica in December, claiming a win and a third-place finish before focusing on the Korn Ferry Tour.
"I would have liked to get the win, but solo second is always a good week," Godsey said. "It's great to be on top of the points list, but there's still a lot of golf left to play, and a lot of work to do. The goal is to finish No. 1, and I'm just going to keep doing what I've been doing and get better every week."
Did you know, the Diners Club Peru Open marked Marcos Montenegro's 36th career start on PGA TOUR Latinoamérica? During that time, he has made 21 cutsbut no top-10 finishes. He has also played a season (2022) on the Korn Ferry Tour, making one top-10 in his 23 starts there. "This is really my first win (in five years) as a professional," he said. "This is something I had been waiting for. When I turned pro, I felt I was pretty close, but it didn't work out. I was always working hard with my team following a line of work, knowing that sooner or later this would happen."
Cristóbal Del Solar still sits in No. 2 of the Totalplay Cup standings while also currently ranked 38th in the Korn Ferry Tour points list. Del Solar received the opportunity to play at the PGA TOUR's Mexico Open at Vidanta this week. He was awarded an exemption at that event by virtue of his Totalplay Cup position. He shot two rounds of 68-74, missing the cut by two strokes.
A PGA TOURLatinoamérica staple, TommyCocha, is still looking for his first win of the season. He held a one-stroke lead heading into the final round but bogeyed No. 16 and No. 18, both holes that Marcos Montenegro birdied. Cocha predicted this kind of ending Saturday, saying, "This course has one of the best endings of the Tour. It has holes that you can take advantage of but holes that will punish you, as well." A win would have seen Cocha tie the record for the most PGA TOUR Latinoamérica victories. The Argentine is still one win behind Mexican José de Jesus "El Camaron" Rodriguez, who won the Jalisco Open Guadalajara last year to become the first and only player with five titles on this Tour.
Peru's Luis Fernando Barco was the only Peruvian competing this weekend, after 13 of his compatriots missed the cut. He finished 56th at 2-over 290.
This was the first event of the season that the 54-hole leader did not go on to win the tournament. It's also the first tournament that saw a different leader in every round. Agustin Errazuriz (Chile) led the first round with a 6-under 66, Samuel Anderson led the second round with a 12-under 132, Tommy Cocha led the third round with a 13-under 203.
Jake McCrory and Charlie Hillier were the only other 2022-23 tournament winners in this week's field. Hillier won the last event, the JHSF Brazil Open and was the first and only wire-to-wire winner of the season, thus far. Hillier missed the cut, however. McCrory, the Termas de Rio Hondo Invitational champion, finished 4-under and tied for 33rd.
Harry Hillier, Charlie's younger brother, did make the cut and had a solid weekend, posting a 6-under Sunday in his attempt to to make it back-to-back wins for the Hilliers. Harry got close, but ended up tied for third with Tommy Cocha. Growing up in New Zealand, Charlie and Harry Hillier left their home country to attend the University of Kansas. The duo played two seasons together, starting in 2017-18. With his recent victory and one other top-10 finish (tied for fourth at the Roberto De Vicenzo Memorial 100 Years), Charlie is currently in third place in of the Totalplay Cup points list, with 699 points. With Harry's finish this week, he moved up 52 positions from 73rd to 21st.
There were four past Peru Open tournament winners in this week's field, but only two remained after Friday's cut. Argentina's Leandro Marelli, the 2019 champion, finished 11-under for a tie for fifth, moving up one position on the Totalplay Cup points list and five positions on the leaderboard after another solid round. The other past winner was Mexico's Rodolfo Cazaubón, who claimed the 2015 title. He shot a 6-under Sunday, moving up 20 positions on the leaderboard and tied for 10th finishing at 10-under.
"Last season, playing on the Korn Ferry Tour, I learned a lot. It's a very competitive Tour. This year I had to come back and play in Latin America. It's a great Tour, very competitive as well and I knew that it wasn't going to be easy. The first few tournaments were difficult, but I have been feeling pretty good with my game the last few weeks. I had been playing well and knew that I would be close soon enough, and it happened here." – Marcos Montenegro
"Now, we have to aim high. A win helps a lot, provides a lot of points and helps you move up the rankings, so we are going to try and get the Totalplay Cup." –Marcos Montenegro
"I made a birdie on the last. It's always nice to make a clutch putt on the last hole. It's good for the confidence." – Conner Godsey
Final-Round Weather: Partly cloudy. High of 80. Wind SSW at 3-9 mph, with gusts to 16 mph.