Archive
Player's Take: Mateo Fernández de Oliveira
What a year it has been for Mateo Fernández de Oliveira. The 23-year-old from Buenos Aires, Argentina, opened 2023 with a record-setting victory at the Latin America Amateur Championship, a tournament he had been dreaming of winning ever since he was a volunteer at the inaugural edition in 2015. That win earned him exemptions for the Masters Tournament, the Mexico Open, the U.S. Open and the British Open. His solid play also earned him a spot on the International Team at the Arnold Palmer Cup, an event he played for the second consecutive year. In the middle of it all, he graduated from the University of Arkansas, where he was a key part of the Razorbacks team that shattered school records to reach the NCAA Championships. Such an eventful year led him to a 16th-place finish in the PGA TOUR University rankings, which earned him fully-exempt status on PGA TOUR Canada and a spot in second stage of the PGA TOUR Q-School this upcoming fall. After tying for sixth in his professional debut at the Osprey Valley Open at TPC Toronto just three weeks ago, Fernández de Oliveira is now chasing a spot inside the Fortinet Cup's top-60 players who will advance to the season-ending Fortinet Cup Championship. Tied for 82nd with two regular season events to play in Winnipeg and Minnesota, the Argentine is hoping to make the most of his short stint in Canada.
I started playing golf in part because that was the sport my dad and my grandfather played. Up until the age of nine, football (soccer) was the sport I loved. I was passionate about it, but due to school scheduling, I had to find a new sport to play. When I tried golf, I was hooked immediately. Once I got my first set of clubs, I became kind of addicted. We were members at Club Náutico San Isidro in my hometown and I was there to practice and play with my friends every single day after school. At that point, I had no idea what golf was going to mean in my life, but as I made progress, with the competition improving and the prizes becoming more fun and engaging, the game ended up capturing me and changing my life. I would end up moving to the U.S. to play college golf and prepare to start my career as a professional player.
Over time I started playing really well, not only in Argentina but also abroad. I remember that playing my last U-15 South American Championship I claimed the individual title by about nine shots, playing extremely well. At that point, I began to visualize a future playing as a professional. Then, a lot of good things started to happen, like the Youth Olympic Games in Buenos Aires and the Latin America Amateur Championship (LAAC). Everything came together at the right time.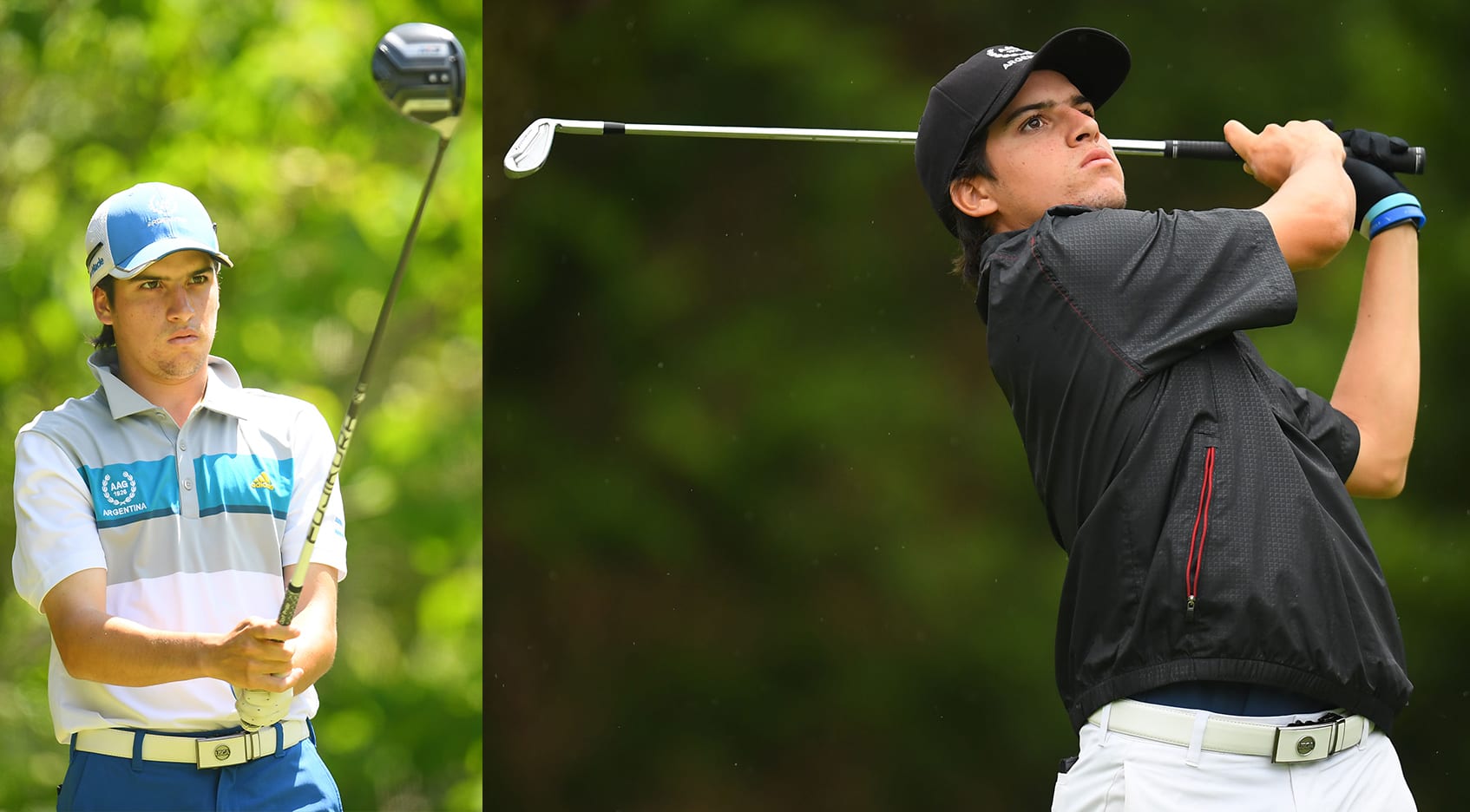 PHOTO: Fernández de Oliveira during the 2018 Toyota Junior Golf World Cup at Chukyo Golf Club in Aichi, Japan. (Atsushi Tomura/Getty Images for Toyota Motor Corporation)
The LAAC's inaugural edition was played in January 2015 in Argentina, and as a junior player, I was lucky enough to be involved as a volunteer. It was played at Pilar Golf, the course where I used to practice all the time. I was 15 and still growing into the game. The first two days I was picked to be the scorer at the 10th hole and the last two days I was a walking scorer. In the final round, I carried the board for Nico Echavarría's group. That was a fun coincidence, as years later I ended up going to the same university as him. Nico is now a PGA TOUR champion and also a good friend. When his group finished, me and my friends went inside the ropes to watch Alejandro (Tosti) and Matías (Domínguez) battle for the title in the last group. I remember each and every shot they hit as if I had been one of those in contention. Seeing all the players competing for something so big was eye-opening, an unbelievable learning experience. Starting that week, the LAAC got stuck in my head and it became a huge goal of mine.
Buenos Aires hosted the 2018 Youth Olympic Games. The road to that event started three or four years earlier and it meant an intense preparation for all the juniors involved in the program. We had the opportunity to travel to different tournaments and measure ourselves against the world's best heading into the games. In the end, Ela Anacona and I were the ones selected to represent Argentina. Following the individual competition, we teamed up in the mixed event and we played well enough to get the bronze medal.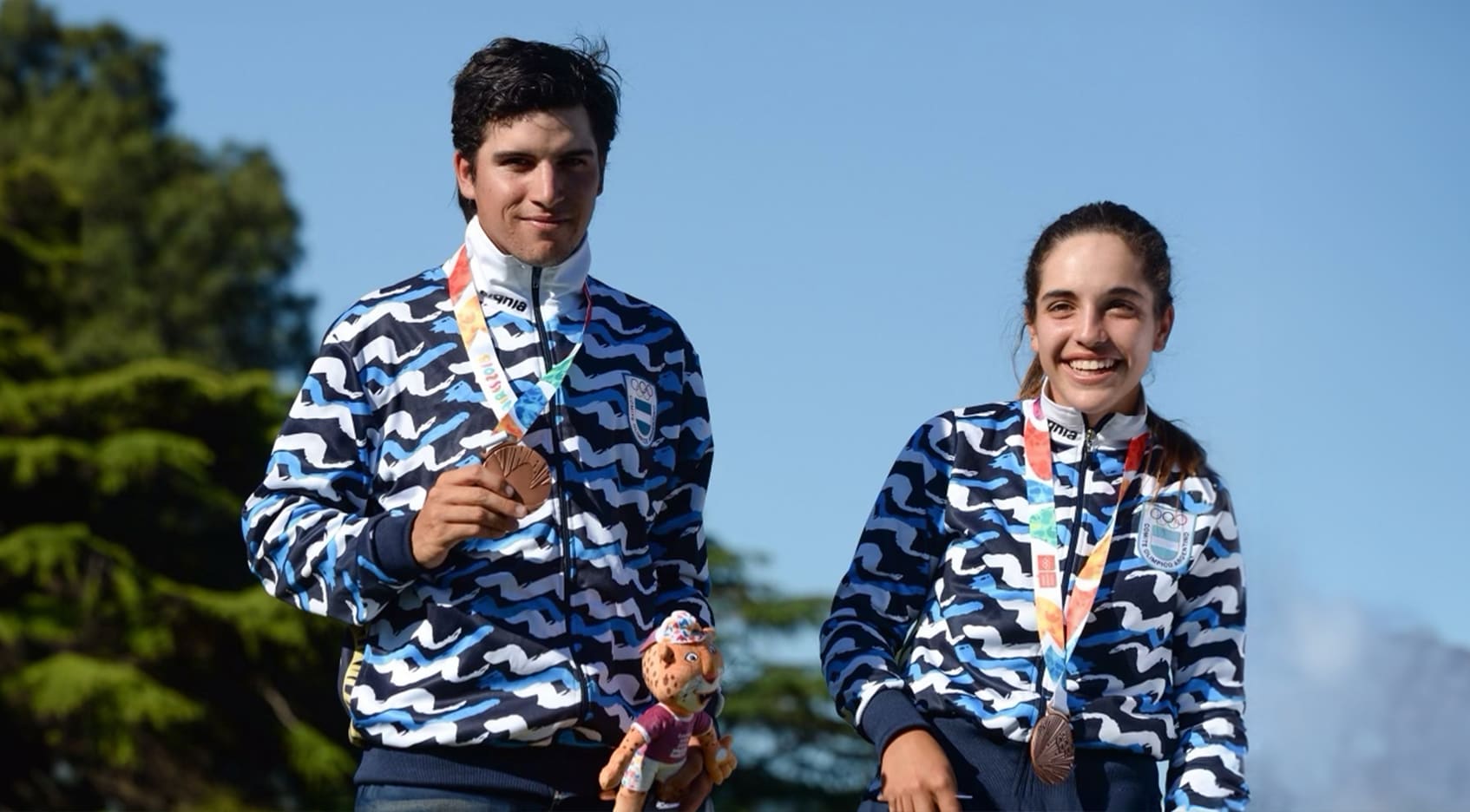 PHOTO: Fernández de Oliveira and Ela Anacona put together a final round of 7-under to claim the bronze medal for Argentina in the Mixed Team golf event at the 2018 Youth Olympic Games at Hurlingham Club in Buenos Aires. (Courtesy of Mateo Fernández de Oliveira)
Ela and I met around 2014, while we were representing Argentina at our first U-15 South American Championship. Through the years we became really good friends and our friendship evolved into a cherished relationship. She knew almost everything about me, and I knew a lot about her too, so we became very close. We left Argentina to go to college in 2019, with her going to the University of Arkansas and me going to Texas Christian University (TCU). We were only a five-hour drive away from each other and we were committed to being there for each other right from day one. Moving to another country and dealing with a different culture was not that easy, and we were going through the same thing. Knowing that we could count on each other was huge and it brought us closer. We have been boyfriend and girlfriend for the past three and a half years.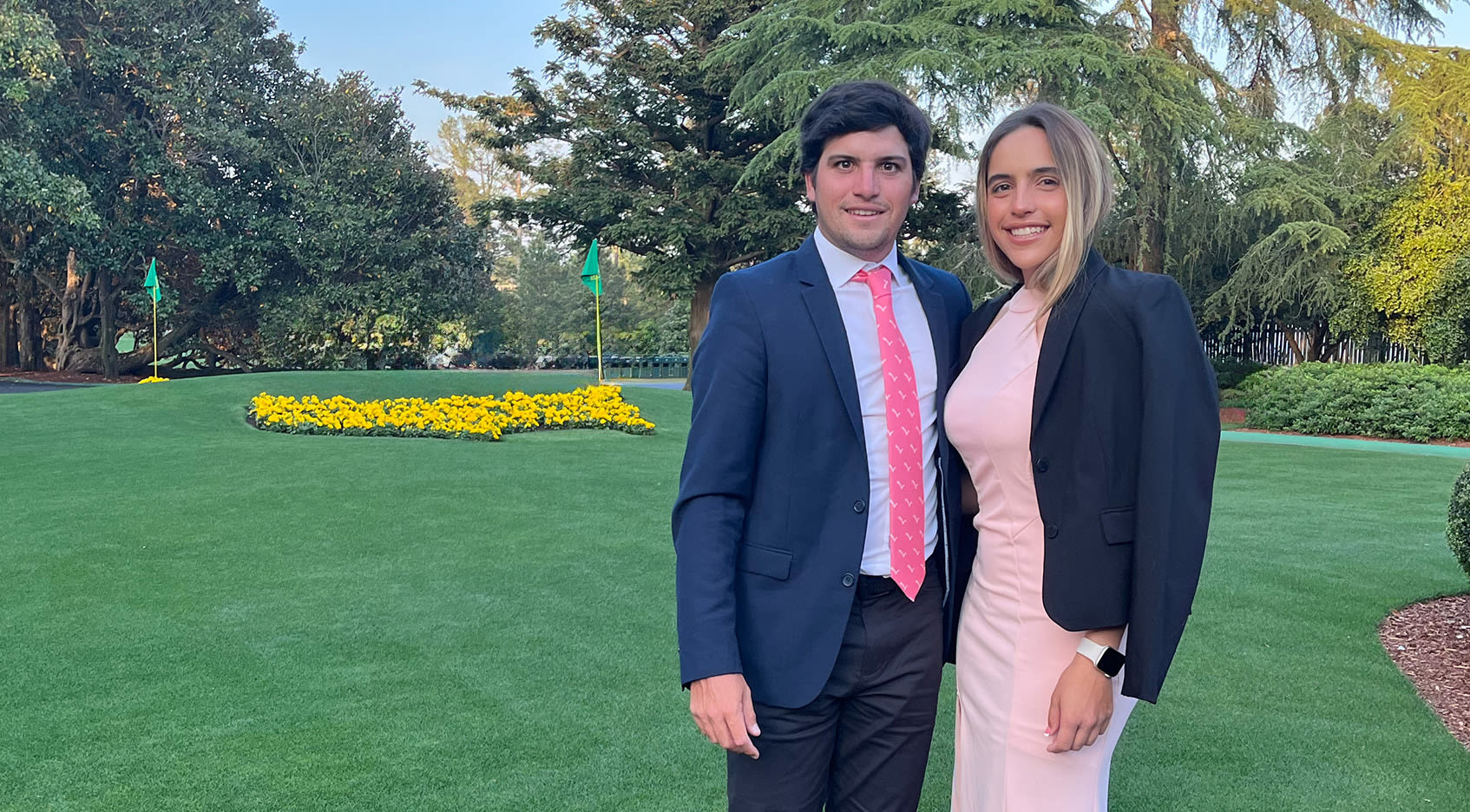 PHOTO: Fernández de Oliveira and girlfriend Ela Anacona at Augusta National Golf Club during the 2023 Masters Tournament. (Courtesy of Mateo Fernández de Oliveira)
After two years, I transferred from TCU to the University of Arkansas. The transition was easy because I knew a lot of people in Arkansas. I knew I was going to feel right at home, because of all the Latin connections and all the people who support the program. Aside from my girlfriend, there were several other Latin players on the men's team. At the end of my college career, I can say that becoming a Razorback was the best decision I have ever made. I moved to a place that I now consider home, and I honestly believe that if I had not gone to Arkansas I would not be where I am today. This would not have been possible.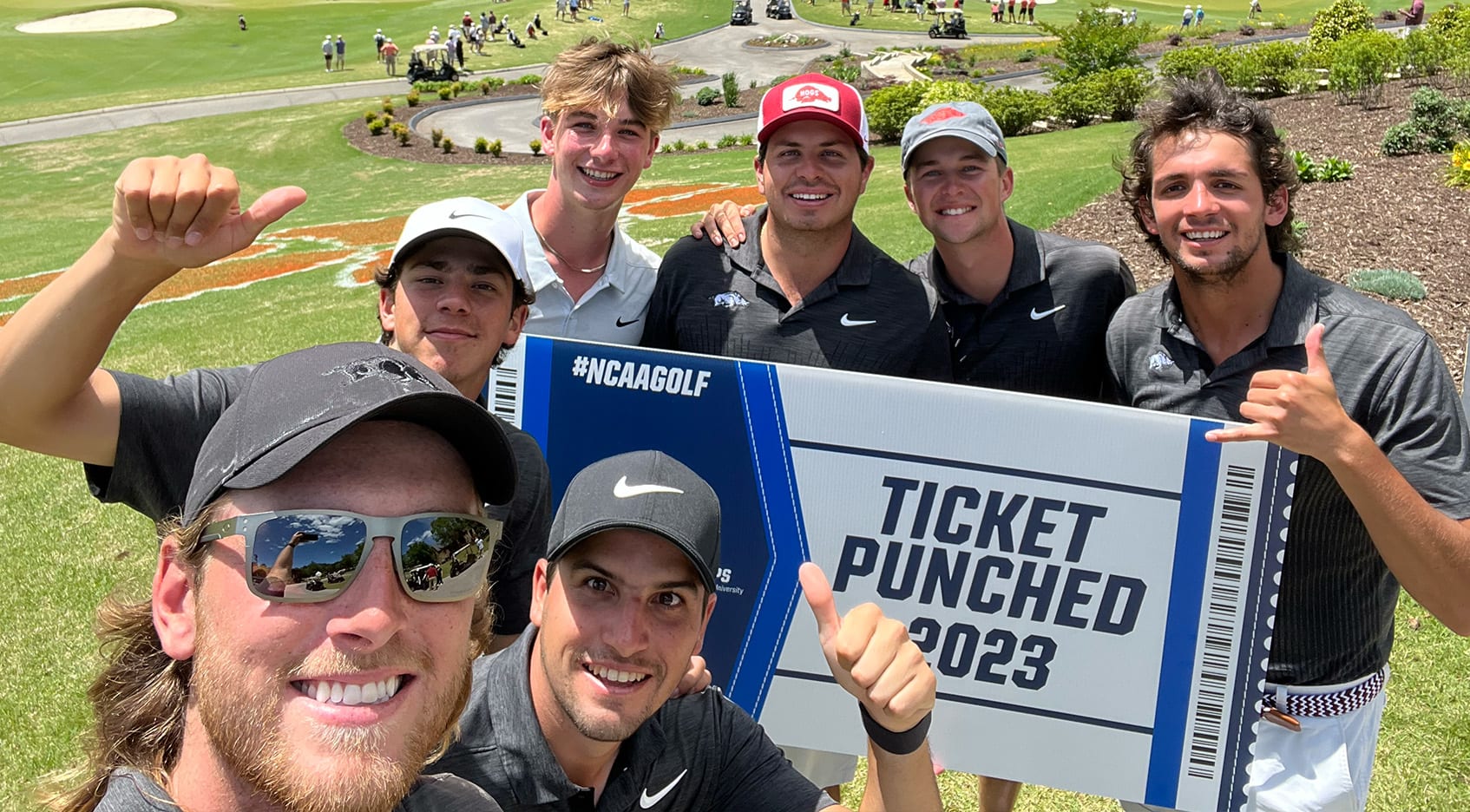 PHOTO: Fernández de Oliveira was part of a strong Razorback team that shattered school records to reach the NCAA Championships last May. (Courtesy of Mateo Fernández de Oliveira)
Our team's farewell at NCAA Nationals, last May, was very emotional. We did a group interview after our last round, and we all ended up in tears. That video we did illustrates the great chemistry between Segundo (Oliva), Julián (Perico), Manu (Lozada), and me. We created a bond that will probably last for the rest of our lives. We became more than friends; we feel like family.
Being able to finally win the Latin America Amateur Championship was a dream come true. Having played the tournament several times and coming off a second-place finish in 2022, when I made it into a playoff, gave me the much-needed experience. I knew how to handle the tournament week, but I also knew how to prepare for it. When I made it to Puerto Rico, I was ready to compete and it made a significant difference.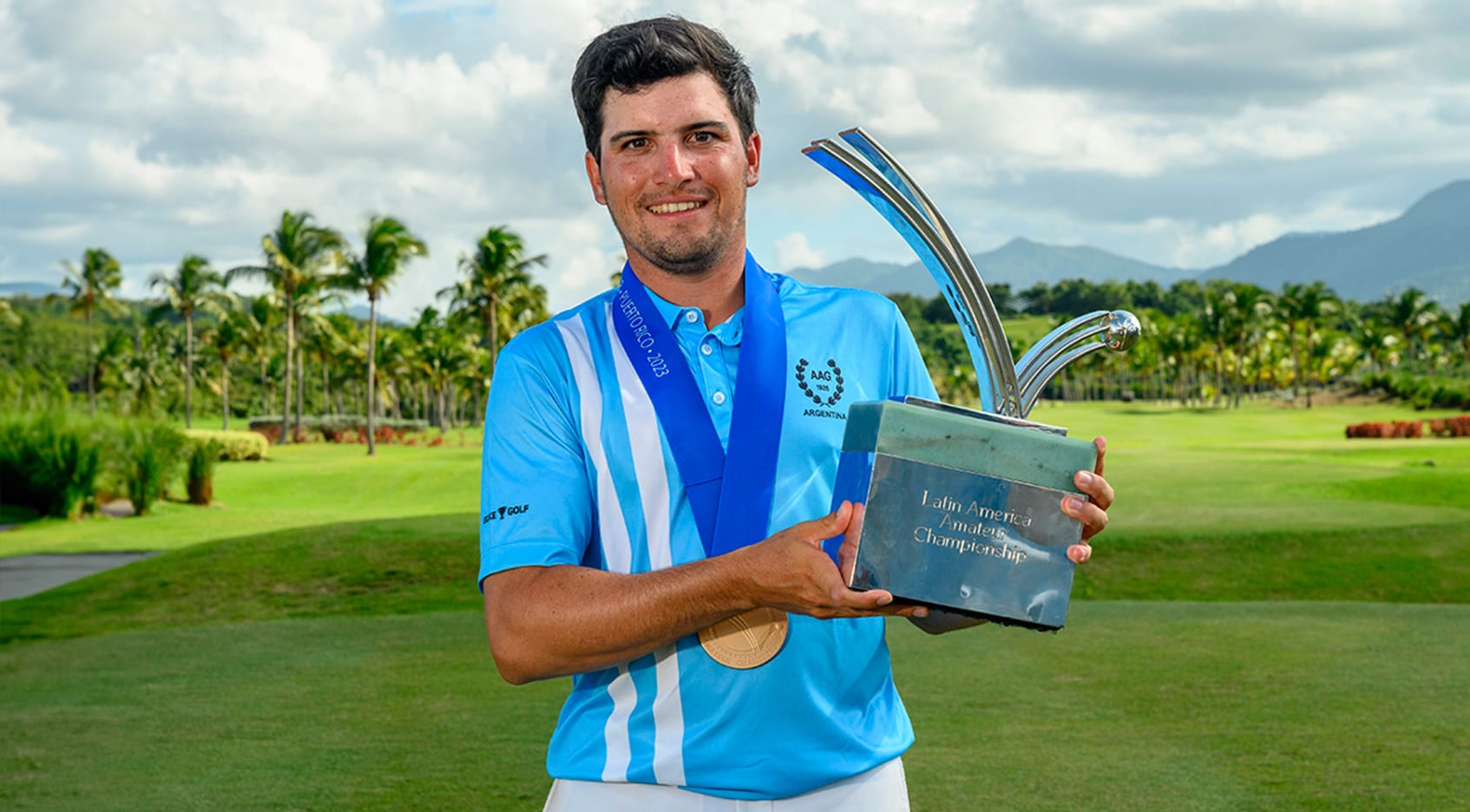 PHOTO: Fernández de Oliveira holding the 2023 Latin America Amateur Championship trophy. His 23-under-par total of 265 for a four-shot win at Grand Reserve Golf Club in Puerto Rico broke the 72-hole Championship record of 273 set by Joaquin Niemann in 2018. (Courtesy of LAAC)
By virtue of my 2023 LAAC victory, I earned exemptions for three major championships: the Masters, the U.S. Open and the Open Championship. Each experience was better than the other, and although I would have liked to play better, I think I learned a lot as a player and as a person. I really want to return to that major championship stage in the coming years, but I understand there isn't an easy path back. It will demand a lot of sacrifice, hard work, and discipline above all. I wouldn't like it any different, I'm willing to put in the work and do whatever it takes. All those experiences that I had this year, not only at the majors but also at the Mexico Open, allowed me to understand what it takes to be there. Not just what is needed, but specifically what is it that I need.
I really appreciate the opportunity I am having to take my first steps as a professional on PGA TOUR Canada. I joined the Tour thanks to the PGA TOUR University ranking, which is a much-needed pathway for those of us transitioning from college golf to professional golf. Being able to play in Canada and to be exempt for second stage of PGA TOUR Q-School is something extremely valuable for me and an opportunity I am really enjoying and making the most of.
The things that I learn every week that I play are extremely valuable. Just like I did at the majors this year, now that I'm playing in Canada, I'm drawing different conclusions at the end of each week. I assess everything that is happening to me, and I think that's the best way to find a formula for success.